I was just in Bangkok for one night last week and thought I check out some of the newer Ladyboy Bars that I have not seen since my last trip. The first on my list was a bar called DC 10 located in the night life venue area of Nana Plaza. Nana Plaza is a complex consisting of both ladyboy and gender girl Go Go and Beer Bars and pretty much every single taxi driver in Bangkok will know exactly where you want to go if you say take me to Nana or Nana Plaza. DC 10 just opened recently and is on the second floor of the complex towards the back left corner. It is actually right beside a more well-known ladyboy bar called Casanova so you are sure to get your fill of ladyboys if you happen to be walking around that corner.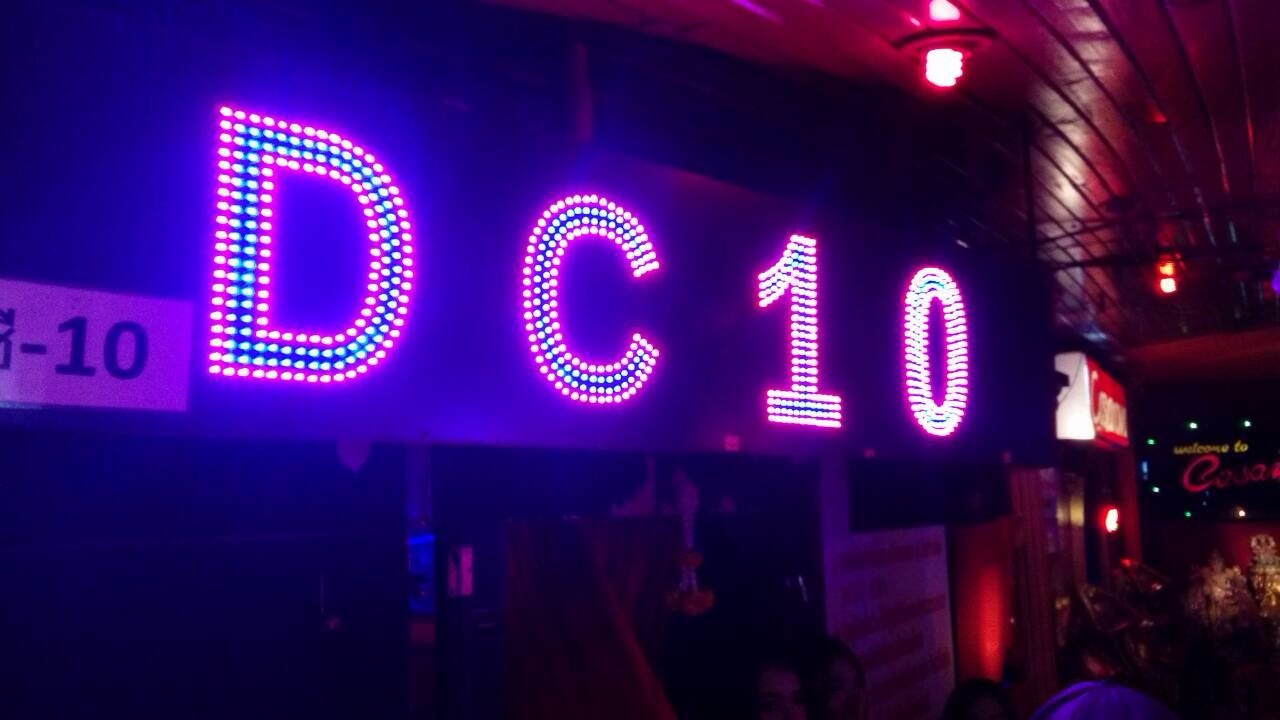 When I first entered the bar most of the ladyboys were outside but quickly came in to dance on a very small stage that is basically an arm's reach of your chair. The bar is very tiny with benches on both sides of the center dance area. The dance area for the ladyboys consists of a few stripper poles and is a very narrow stage area, as I mentioned you could reach out and grab the ladyboys from your chair. The ladyboys for the most part seemed quite friendly with most of them in red bikinis and all looking my way hoping I would call them down for a drink. All the purses of the ladyboys were also all in the corner of the bar which I found amusing that they were just left there in a big pile. I presume there is not much in regards to a change or locker room area for this small bar. There is a small bar area for drinks at the back which is also beside a small bathroom. Was actually amused again to see a ladyboy sitting on the toilet with the door wide open talking to her friend, got to love the Thai Hooker sometime, they always make things interesting.
I actually remember DC 10 Bar when it was a gender girl bar when I visited last time. The bar itself has not changed at all and it just looks like they transplanted all the gender girls that were there with ladyboys when the new management took over. The bar is actually rather run down with lots of tears in the seats, old tables and so forth but even so the ladyboys are still hot to look at. I heard that Charades Ladyboy Bar which was formally known as Cascade downsized their ladyboy staff and a lot of the ladyboys from that bar ended up in DC 10 but the night I was there I did recognize anyone except for a couple of girls I have happen to have seen on a couple adult sites on the Internet.
I heard rumors that the ladyboys cost 2000 Baht to bar fine from the forums if you talk to the management directly which in my experience is quite expensive, especially since you still have to pay for the ladyboy. However, after talking to a couple of interested ladyboys I was quoted 700 Baht and 600 Baht and both said they would short time for only 1000 Baht without any negotiation on my part. Perhaps it was a little slow that night or I was wearing a lucky shirt but that seemed pretty reasonable.
So what do I think of DC 10 Ladyboy Bar? Well you are not going in this bar for a wonderful bar experience since I have already mentioned that the bar itself is kind of a dump. However, the ladyboys were very friendly, the drinks were average prices though I was drinking beer so I can't comment on the strength of the hard booze if you ordered one. For a first time ladyboy fan that is looking to just chill out it might be a little intimidating since the ladyboy are so close and in your face looking for attention but I have been in more aggressive bars in the past. All I can say to sum up is the bar is small and old but there was a lot of beautiful ladyboys that were all willing to get down and dirty.