Kings Ladyboy Bar is another fun time if you get to chance to visit Pattaya, Thailand and you are on the search for ladyboys. Kings Bar is located on Soi 8, another very popular sex district area filled with bars featuring ladyboys and gender girls. If you are coming up from Beach Road then the bar is almost all the way to the end of Soi 8 on your left hand side. It is about a 10 minute walk if you do not stop to take part in other bars along the way which you are sure to be tempted. You can also reach the bar from 2nd Road by taking a left onto Soi 8 and it is a shorter walk of only a minute or two.
Kings Ladyboy Bar has made a few changes over the last few months and the owner has put some money into the establishment and really made it a cool place to hang out. When you first arrive at the Bar there will usually be a number of ladyboys sitting just outside the bar, a few on the street and even a few across the street. Some of the ladyboys work at the bar and there are a few freelancers that hang around the bar and would go in for a drink if you invited them. I am not exactly sure how many ladyboys are employed officially but the times I have gone to the bar there has been at least 10 and up to 20 ladyboys hanging around both in and outside of the bar. They can be a little aggressive to get you inside if you show some interest but they are not to wild.
Entering the bar I always have a smile on my face. I really enjoy the atmosphere of the bar, it is not a bright bar in fact it is quite dark but the purple and blue lights throughout out the bar give you that nightclub type feeling that I do enjoy plus it makes it feel a little more private. There are a few tables and stools right at the front, the middle has some small sofas and tables and the back right of the establishment is where the bar to serve drinks resides. There are also some stools in front of the drinking bar as well. The music in the bar is mixed as they have a laptop sound system which you can use on the bar to choose the songs you wish, that is if someone else is not already at the system. There is a number of mirrors all over the bar so it makes the bar feel bigger and you can sneak a peek at many of the other ladyboys throughout the bar without directly staring into their eyes.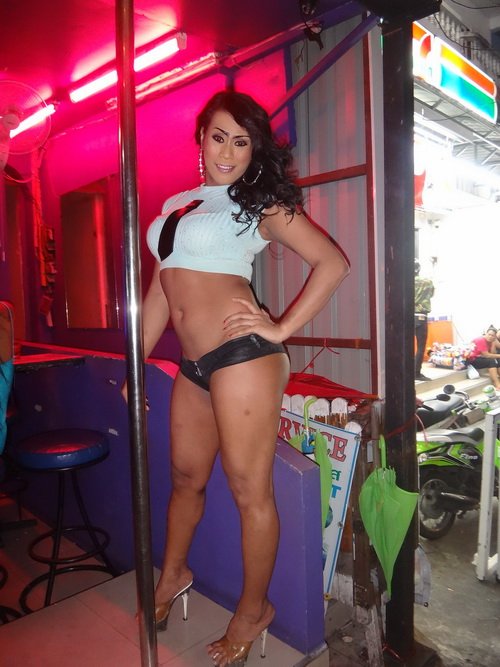 There is also some washrooms in behind the bar which for the most part were fairly clean, nothing amazing but I would consider the washroom typical for Soi 8 bars, perhaps even a little better. As I stated above the owner has put a lot of work into the bar and there are even more features if you move up to the second floor, the stairs are at the front of the bar. They now have a very cool feature called a perspex floor, if you are unfamiliar with the term it basically is an area of the floor where it is clear so people on the first floor can see the ladyboys dancing from below. So you get a little panties view of dancing ladyboys from below which is a great feature for the ladyboy fan. Also, on the second floor is a pool table and an outside porch area with even more tables and chairs.
King's Bar has also opened up a Guest House as well for those that are looking for a place to stay that is also close to the action. There is also short time rooms available if you are just looking to take a ladyboy or more up to a room for a couple hours of fun. Of course you are welcome to take the ladyboys to your own hotel, short time room or condo but the options to stay close by are available. I am not to sure about the quality of the rooms right now but when I find out more I will update this post. Since the owner has spent a lot of time making this bar look cool I would think his new Guest House would be quite cool as well.
The ladyboys themselves are a lot of fun and in my opinion do not have a lot of limits for being naughty inside the bar. Most of the ones I have seen are more of the seasoned ladyboy, have been around the bar scene for a few years and really know the score. That does not mean you will not find a fresh new face but for the most part the ladyboys here are quite used to picking up customers, drinking, dancing, having fun and of course sex. Could this be a bar that you could have sexual fun in the washroom? Well from experience I would have to say yes. Most of these girls are pros but do not let that scare you, they are a lot of fun. As with many of the ladyboy bars it might be a little unnerving to the newbie on his first trip solo but after a few drinks in you I would recommend dropping by. They really do have some stunners in here and since these ladyboys have been around they know how to dress, act sexy and make you desire them.
The prices are pretty standard for a ladyboy bar and they have your typical selection of spirits to choose from. The bar often has parties either for a ladyboy's birthday, a special event or just because they feel like having a party. The bar has also participated in charity events and tries to give back to the community which is always a cool thing to do. I really like King's Bar, even though I will admit a number of the ladyboys are not "my type" of ladyboy I usually find one I really like and the other ones always put me in a good mood. I am a big fan of the clear floor above for obvious reasons and I think this is one of my favorite bars in that particular area, in fact I enjoy this bar more then many of the ladyboy bars in Pattaya.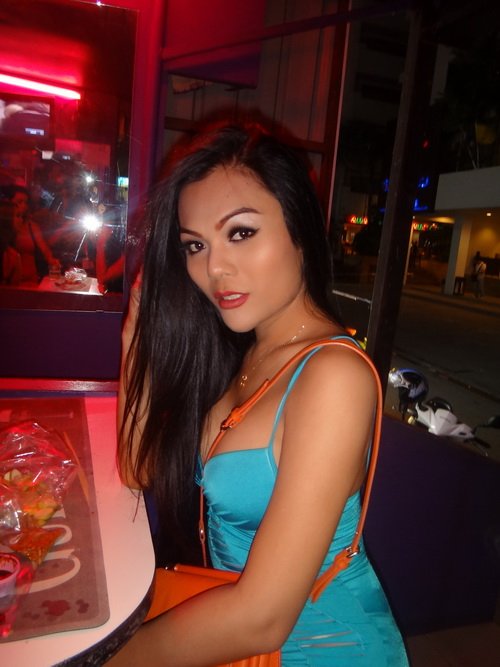 I would say officially the bar probably closes at 2 or 3 in the morning but it is one of those bars that will stay open later as long as there is a customer to entertain. Also, the ladyboys that work there often stay quite late outside the bar, it can be a great choice if you are in the mood and looking for some late night action, or if you just want more drinks and want the night to continue to roll on. I would definitely check out this bar, if you are looking for little slender young ladyboy princesses then you might not get it, but be sure to check it out, in regards to fun I think it is a top notch place to be.