Ladyboy Pook Bar Pattaya
If you are heading to Pattaya, Thailand in search of Asian Transsexuals then checking out Pook Ladyboy Bar  or Pook Swan as it is sometimes called really should be on your list of things to do. There is actually two Pook Ladyboy Bars in this city. One is on Soi Buakhao Street which I will focus on this review and the other is on Soi 6 which I will touch upon in a future review. Pook bar is along the Soi Buakhao Street and you usually can't miss it when you drive by. It is an open front bar and right from the street you can see ladyboys sitting at tables, dancing on stripper poles and talking to customers. There might also be a few on the street trying to get your attention to bring you inside.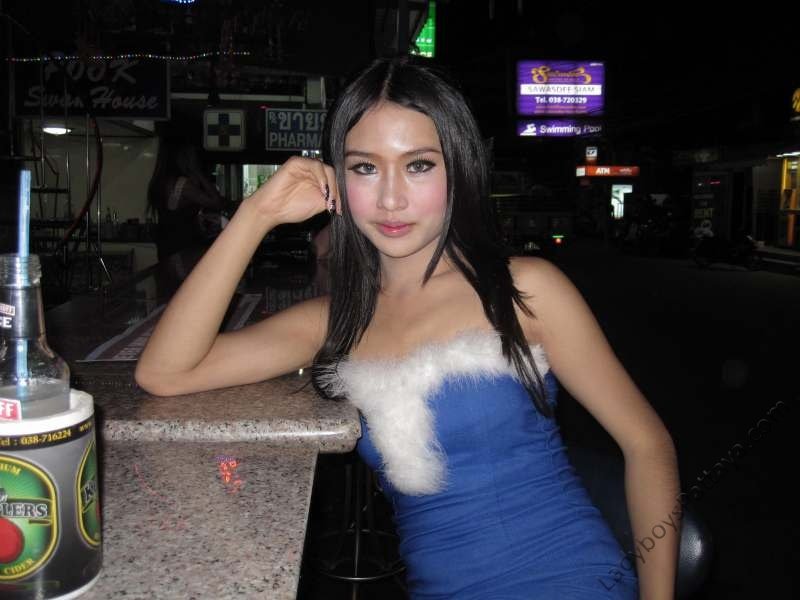 You can sit by the front by the stripper poles if you do not mind having people see you from the street. If you want a little more privacy you can head back behind the dance stage area where they have some more tables, the bar, and a couple pool tables. They also usually have a big screen TV on the wall playing one of the sporting events, usually Football. They also have a couple bathrooms in the back of the bar area for you to freshen up. Finally if it is open you can also go upstairs above the dance stage by going up some stairs, it gives you a nice view of the street and a great place to people watch and talk to a Ladyboy. However, I have noticed they often have that area closed off, though you will usually see some ladyboys dancing on the stairs and at the top of the stairs as well.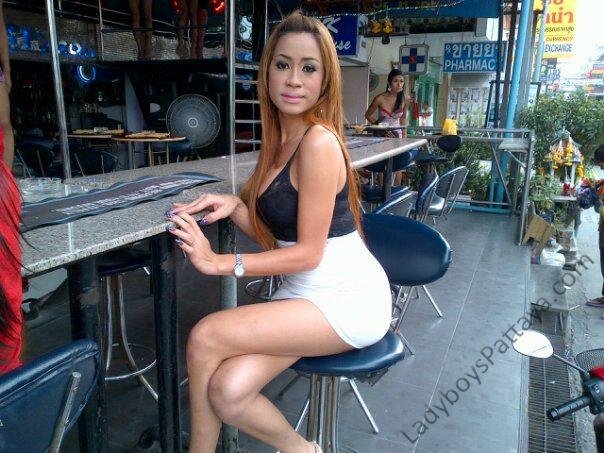 The ladyboys are very sexy in this bar and there are usually quite a lot of them during the busy times of the day. I would say on average there is about 20 to 30 ladyboys at once but sometimes more and sometimes less, but usually there is always at least 10 for you to play with. I find most of the ladyboys at Pook bar are what I would call pro ladyboys. Most have big breasts, have had operations and know the Ladyboy and customer game. You can find the occasional post-op or new Ladyboy that has not been under the operation knife but usually not a large selection. The ladyboys I would not say are overly aggressive but they will make their intentions clear pretty quick that they want to have some sexual fun with you or at least having you buy them a few drinks.
If you find a Ladyboy getting a little too aggressive then asking her to play some pool might be a good idea. It kind of keeps the pressure off of you and most of the ladyboys love to play pool. Take note a lot of them are pool sharks, they are really good at it since they play so often in the bar. However, even if you get a pool butt kicking it still is a lot of fun. Pook Bar also has short times rooms upstairs if you are in the mood to have some sexual fun and you do not feel like taking them back to your hotel or apartment. Of course they will be happy to go back to your room if you so desire for short or long time fun.  You can actually stay in these rooms long time if you want they have daily, weekly and monthly rates.  The rooms I would not consider high end rooms and are quite basic but for a short time or a guy that doesn't need fancy hotel rooms it will do the trick.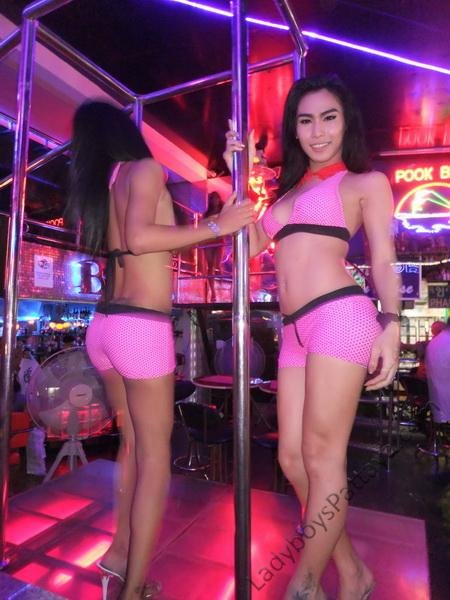 I do find the later it gets in this bar the more aggressive the ladyboys will get with you. You must remember they are working and the later it gets without a customer the more chances they will be going home empty handed and they might start to push more. Though normally the ladyboys are a lot of fun I have noticed from Pook Bar a lot of the Asian Tgirls have a Diva attitude. If you are not interested in them they might flip their hair and walk away disgusted or give you that angry look before they storm off in their high heels. Do not take that personally, it's just how they act. If you came the next day and grabbed the same angry Ladyboy she probably have forgot all about the night before and would be willing to head to your room just as easy.
The bar itself opens usually in the early afternoon though you probably will not see a lot of ladyboys arriving until after dinner. The bar closes officially around 3am for drinks but you usually can still get drinks early into the morning, the bar just turns off most of the lights but still caters to booze searching foreigners. Pook also isn't a bad option if you are feeling like getting a Ladyboy but it is very late at night. Many of the ladyboys will still be sitting out front at 4 or 5am in the morning hoping for a few more horny foreigners that are on a last minute hunt of some Ladyboy action.