Ladyboys in Thailand news are often portrayed as bad seeds thanks to a few bad apples but the truth is most ladyboys are very sweet and caring people and each year for the last 4 years a fun competition of Ladyboy Water Volleyball has taken place to not only strengthen the image of ladyboys but to also help raise funds for several charities throughout the years. In 2015 the Ladyboys Water Volleyball or LBWVB for short was a smashing success raising 750 000 Baht to be split up between three orphanages. Pattaya Orphanage, Baan Gerda in Lop Buri for children with HIV and the Bamboo School in Kanchanburi caring for orphans close to the Myanmar and Thai Borders.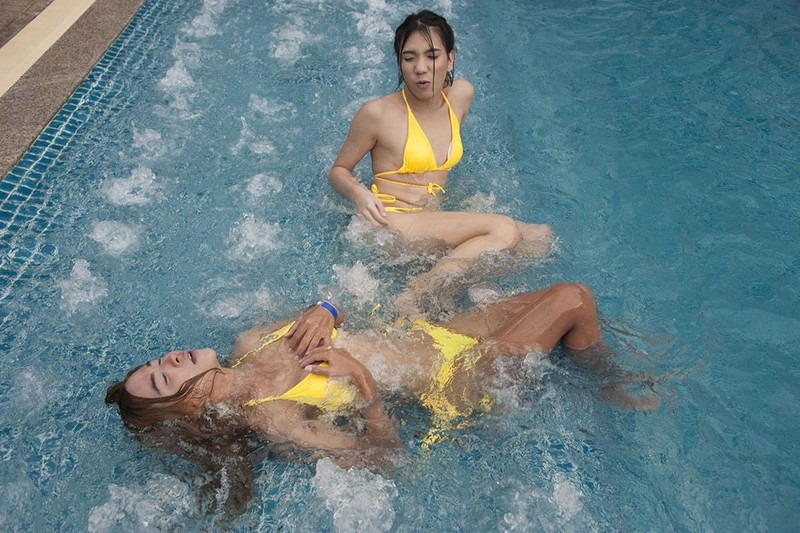 Thanks to this competition each of the three orphanages above ended up receiving 250 000 Baht which is just wonderful. LBWVB is not just for ladyboy fans as many people from all walks of life came to have a day of fun and of course support these worthy causes. However, for the ladyboy fan it is one of the best times of the year. Many ladyboy bars enter a team of lovely ladyboys all in very sexy bikinis all trying to be number one in the competition. This year the ladyboys of TJ's Bar called the Blue Dolphins in Pattaya took top prize while King's Bar Purple People Eaters took second. Other teams where the Red Dragons from Check in Bar in Bangkok and the Yellow Canaries from Cockatoo also a ladyboy team from Bangkok.
The tournament is about having fun but the girls do get competitive and it is quite enjoyable to watch. Everyone has fun with drinks and food and after the volleyball there is always an evening Gala where teams are awarded gifts and money prizes and of course the orphanages are presented their checks. The Gala the ladyboys do not come in bikinis but instead really dress up for the event with beautiful dresses and gowns. A great spread of food, drinks, fun and ladyboys and everyone had a great time. Since this event has started in 2012 it has made almost 3 million Baht for various charities and grows stronger every year. Perhaps in 2016 you can be there supporting your favorite team, having lots of fun and of course supporting a worthy cause.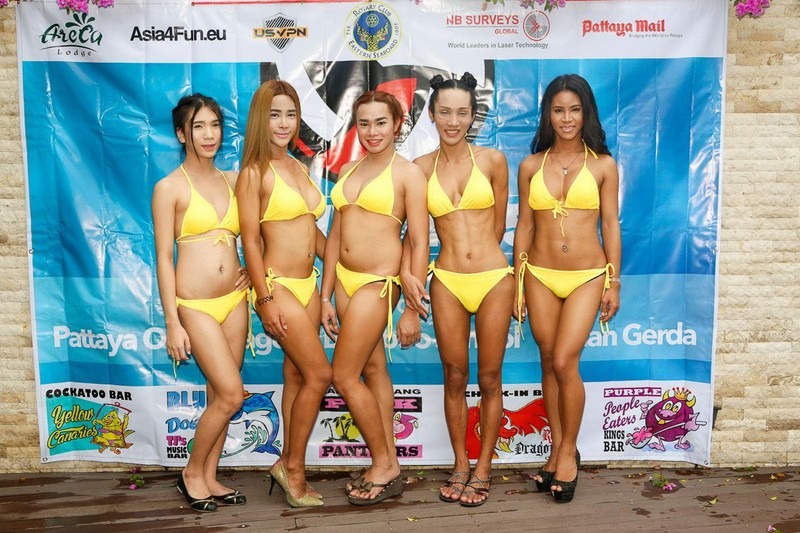 All the photos on this post were taken from LBWVB.com which is the official webpage for the Ladyboy Water Volleyball Event. Ladyboy Portal got permission to use these photos and we thank the event organizer very much and also made a donation to go towards the fund raising. Please feel free to go the official webpage. There you will find more photos from the volleyball throughout the years, the charities that the event has helped, sponsors, contact information, donation info and much more. Keep your eyes on it and in 2016 you can be one of the many lucky enough to be by the pool enjoying the games and the ladyboys!