Songkran is probably Thailand's biggest celebrated and famous festival. It is a very important date on the Buddhist calendar and it marks' the start of the traditional Thai New Year. The term Songkran comes from a more formal word of Sanskirt which basically means "approaching or passing" when translated. Usually, the festival is celebrated from April 13th to 15th in most of the country, though the popular tourist city of Pattaya, Thailand usually celebrates from the 13th all the way to the 19th. Songkran usually includes the Thai people cleaning up their homes, going to the temples and participating in many other Buddhist rituals.
Photos at top of post from Ladyboys Pattaya and location is  Sensations Ladyboy Bar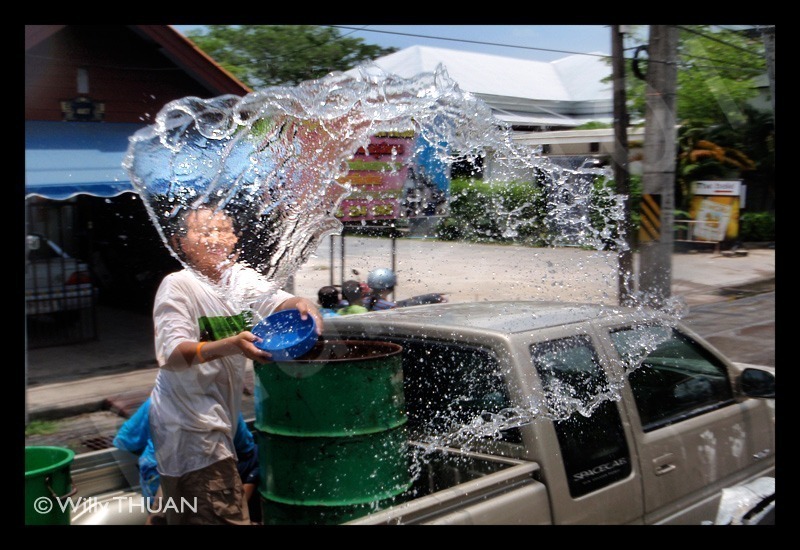 However, what Songkran is really famous for is the giant water fight that basically shuts down the country where Thais and tourist visitors enjoy throwing buckets of water on each other, using water pistols and basically soaking anyone in their sights. So if you are in the area of Thailand during these times then you should expect to be soaked right through to the bone. Many tourists love this festival and join in while other foreigners might find it a bit annoying to get wet day after day especially in a city like Pattaya where the water throwing can go on for a whole week and sometimes even a little longer. Usually the last day of Songkran is the biggest water day which is the 15th in most areas and the 19th in Pattaya, Thailand. Pattaya, for example all the streets basically close down and huge numbers of tourists and foreigners play in the water, the dryer you look the faster you will get wet.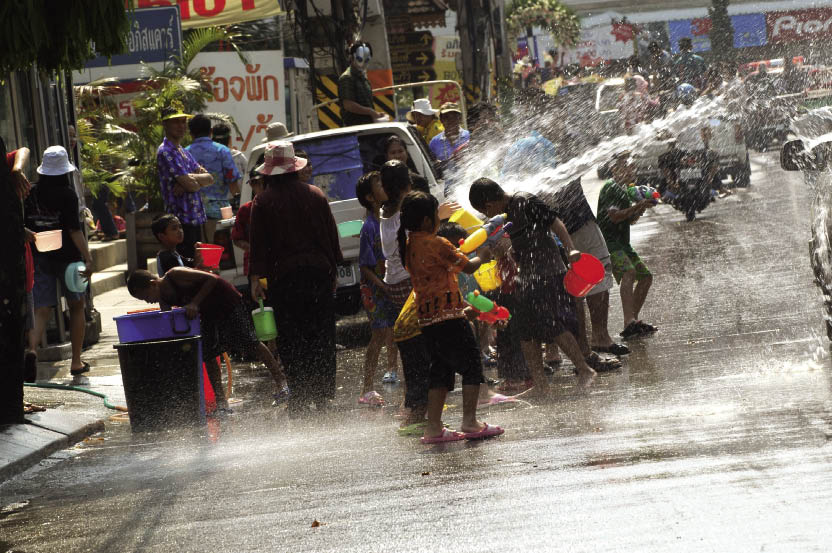 During this time the Thai people really let loose and go wild. April is a very hot month and the water is a welcome relief of cooling and fun. There of course is a lot of music, drinking, dancing and just acting silly all in the name of good fun and celebrating the Thai New Year. For the ladyboy fan this is a great time to see a lot of ladyboys running around in bikinis and wet shirts and generally looking like they are trying to audition for a Girls Gone Wild Video. The Thai people love including the tourists in their fun so expect to get a lot of attention and though it can be a bit overwhelming at times try to keep a good attitude to it if you ever go. Unfortunately it is usually the tourists that cause the most problems with shooting you in the eyes or knocking you off your bike. Not all of them of course but is well known that a lot of Thai people shoot and throw water at you for play while the foreigners might be shooting at you to see if they can injure you in a playful way but that playful way can hurt.
In any case it is a great time to get a water gun, head on out and enjoy the sites. Everyone is quite friendly at this time so you could easily join a ladyboy water throwing group or just watch as you go through the crowds. One thing is certain you will find lots of ladyboys enjoying the festival especially in a place like Pattaya City. As usually even though the bars might not be as active the working ladyboys usually will be around their own bar throwing water so that might help you find a cluster of them.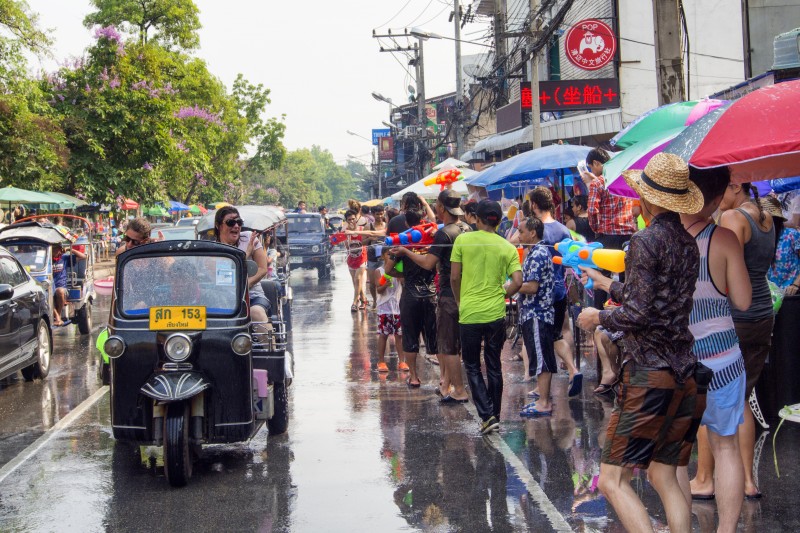 Though nudity in public is not allowed in Thailand and in fact the laws are quite strict on it. However, Ladyboys are known for slipping out of there tops quite frequently in this festival; last time I went I saw my fair share of ladyboy naked flesh. Of course it is not just ladyboys as girls and guys of all ages are out on the streets causing just as much playful trouble. If you ever have a chance to go to Thailand and you have the ability to be flexible with your dates, enjoying this festival might be a great choice for you; it is not for everyone, especially if you do not like to get wet, but an experience you are sure to remember for the rest of your life. Just a as a final note even though this is a festival that is a lot of fun with fun there is dangers. A lot of drinking is usually involved in this festival and with excessive drinking no doubt problems can arise with drunk driving accidents probably being one of the worst parts of this festival. It can be a great festival to have fun in but be aware of your surroundings when you are in another country and just like every country in the world, not everyone is there to be your friend.