TJ's Music Bar is not your typical Ladyboy bar but I thought it would be worth a mention. TJ's Music Bar is located in an area called Naklua which is just a few minutes' drive from Central Pattaya, Thailand. From what I understand the bar is German owned and it is a mixture of both ladyboys and girls. As the name suggest, it really isn't a bar just for sex but a place to hang out, listen to live music, drink, watch sports on the big screen or play a few games of pool. It is a popular spot for those in the area and for those that need a break from the craziness of the Pattaya bar scene.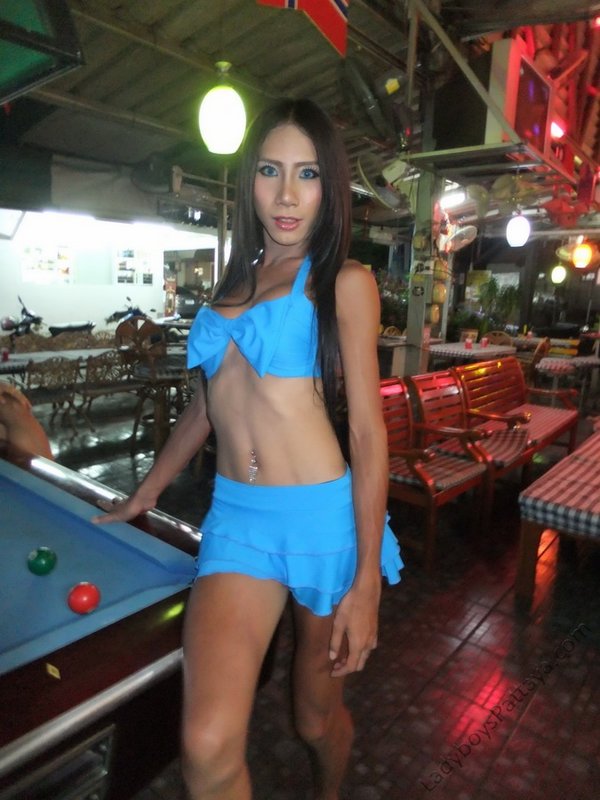 I am including this bar because there are a handful of sexy ladyboys that do work in this bar. I would say no more than 6 on any given night but they are sweet, fun and would love to have a drink with you. You can go with the ladyboys as well in short time rooms nearby but not on site or take them home. I am pretty sure you have to wait until their shift is over as the ladyboys are employed as waitresses at this bar, it is not your typical pick up joint.
The bar itself has several places to sit, some sofa like chairs, stools and tables and more stools by the bar where you order drinks. They usually have a live music band playing in the front and the customer base is a wide range of both guys and girls that are mostly middle age clients. If you are looking to stick your hands down a ladyboys panties right in the bar it probably is not the right place.  This is more of a relaxed atmosphere for the most part but from my experience the ladyboys are pretty good of slipping their hands in your pants from behind a table. The bathroom is behind the bar down to your left and the bar is an open faced bar so you can see and be seen by most people on the street. They have a number of pool tables and a very professional semi pro table but you might have to wait a while to get a chance to play on that table. They also have the occasional party and buffets with pretty good food are quite common for the establishment.
TJ's Music Bar is located on Soi 18 on Naklua Road in Pattaya. To reach it from Central Pattaya just get on Second Road and drive pass the roundabout many people call it the Dolphin Turnabout. Drive for a couple of minutes until you see the Soi 18 sign and then turn left. TJ's Music Bar will be just down the street a little on your right hand side. You usually can park along the street in front or close to the establishment. I will admit it is a little off the beaten path and you will not be right in the nightlife action but a short taxi ride back and you are in the thick of things once again. However, there are a few beer complexes that are within walking distance.
Personally I am not a huge fan of live music bands and when I go out I like a little more excitement to my night. The bar also has a number of dogs that walk around the bar and last time I was there I saw a couple of them peeing on top of a table which I found a little gross. The dogs are owned by the bar and are not some random street dogs but still I wish they keep them in another area or not bring them at all. Though I suppose a lot of the regulars expect to see the friendly faces of the dogs when they arrive. For the shy Ladyboy fan the privacy level is not the greatest but since this bar has both Ladyboy and girl staff you could just buy drinks for both and play the fun guy role. If you are fondling and drooling all over a Ladyboy then you might get a few looks from some people in the bar but for the most part I would not worry about it too much.
The bar was also involved in the Ladyboy Water Volleyball charity events which shows their commitment to give something back to the community. For the most part the bar can be a good time and it is a nice choice if you would just like a relaxing night or perhaps just the start of your night with a few drinks. It is not a Go-Go bar and it will not have a lot of ladyboys trying to tear off your clothes. However, there are a few sexy ladyboys as you can see by the photos and they are very happy to hang out with you and maybe something naughty after. Just remember this is not really a Ladyboy bar but instead a bar that happens to have a few ladyboys as waitress staff. They will not be begging you for drinks or a short time but the option to have sex with them is surely there.