Check In Ladyboy Bar Bangkok
Photos from Ladyboys Pattaya
New Update:  Check In Bar has moved yet again and is now located across Sukhumvit Road
on Soi 10.  Walk down about 15 Meters and take a left, you will see the Lollipop Bar at the corner, turn right and head down a few meters and the new Check in Bar will be on your left hand side. Keep your eyes for that turn because you can easily miss it.  If you start to walk past the Paradiso Hotel than you have walked to far, though you could keep on going and walk past the Cosy At Ten Hotel and take a left which will get you to the bar as well. Certainly Googling Paradiso Hotel Bangkok will help you get your directions.
The small cart bar still exists and if you are looking for more privacy, well now you got a new option just down the street.  Some great photos also from the forum above to give you a sense of what you are going to find.  I take photos sometimes, but usually am too intoxicated to remember!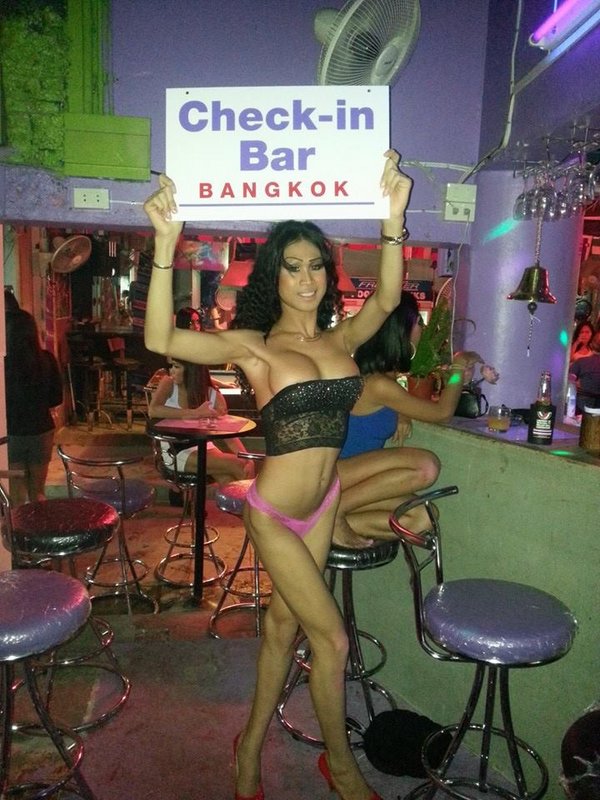 When you are in Bangkok and are visiting all the Ladyboy Go-Gos most of the bars close around 2am in the morning and if you are still in the mood for more ladyboys you used to have to go to the streets out front places like Nana Plaza or perhaps visit some discos.  Now there is a new option for people that want to keep the party going.  There is a small street bar that opens up at 10pm and closes in the early hours the next day at about 6am.
The bar is not a bar in your typical sense.  In the night along the main Sukhumvit Road many people will set up small alcohol carts on the walkway with some chairs and tables.  One of these bars is called Check In Bar and is usually has about 10 to 20 ladyboys working there.  Some of these ladyboys are very sexy as you can see by the images and if you need to keep on drinking into the night a great place to sit back and have a few more.
Now if you are looking for privacy then you will probably not get it here.  I mean the bar is on the walkway off the street so people will be walking back and forth all night.  However, if you are shy about the ladyboys you can just sit beside one of the bars close to it or pick an outer seat to perhaps blend in more.  What is great about it is you can watch all the activity of the nightlife.
Not only can you buy a drink for a ladyboy and talk to her but they will happily go with you.  If you are not interested in the ladyboys working that night then you can still sit back and watch the street walking traffic.  There will be many ladyboys going home or to discos walking down the street, you can catch their eye and go from there just as easy.
If you are trying to find it for the first time here are some easy directions for you.
I enjoyed my time at Check In Bar, the guy serving drinks was very nice, and the ladyboys were not too pushy and quite friendly.  By the time I got there a lot of them had some booze in them but they were still under control.  I did get the occasional gender girl or African working girl try to sit with me which was fine, just a pleasant no thank you and they were on their way.  The bars are pretty close to each other so there is some mixing between who owns what tables and so forth.
This is a great choice if you want to keep your night going, if you have not found a companion for the night or if you are just a people watcher. If you are terrified to be seen with a ladyboy in public well you really can't get more public then this, but it is at least worth a walk by.  Even the shy guys are sure to be tempted to sit down, there are some beautiful ladyboys working here.