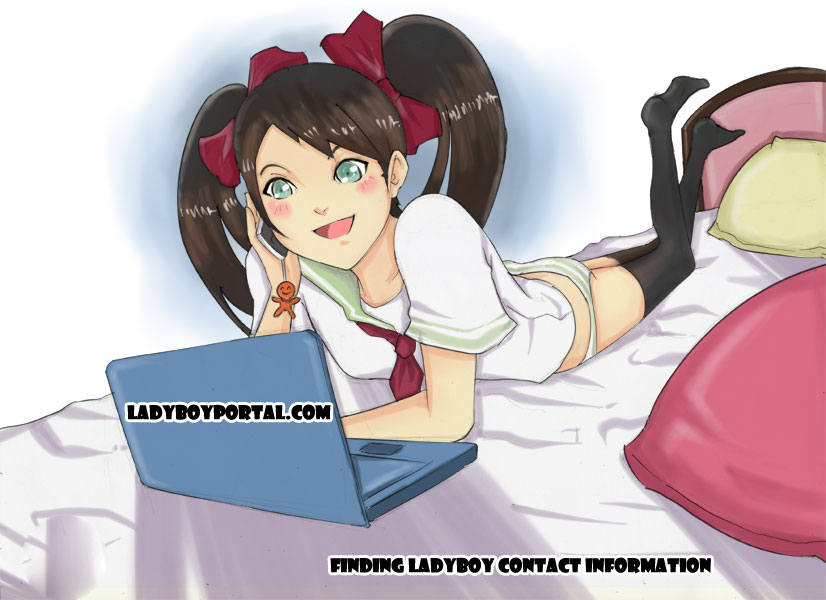 Six steps in finding ladyboy contact information. If You are on the hunt for your favorite ladyboy or perhaps just ladyboys in general and would really like to talk to them and better yet even meet them one day. How do you get their contact information? Well here at Ladyboy Portal I created a list of some possible solutions in finding these sexy girls.
First though let us talk about how to approach them a bit. If you are not on some Porn Cam site most of the ladyboys you will talk to will not want to talk about sex or want to get on Skype for cam shows for instance. They are interested in sex; in fact they love it just as much as you but they want the real thing. You will rarely find a ladyboy online that is not on a Cam Site that will volunteer herself to dirty free cam shots. For example on my favorite dating site for ladyboys most of the girls profile state they do not want to talk sex or do webcam show, they want real thing.
Another tip is to treat them just like you were treating a girl (as they totally feel that they are), be nice, polite and friendly like you would to any girl you wanted to impress in your own country. They will respond to that better then asking their penis size. However, if you happen to be in their city and you are just looking to hook up and they are aware of that then you might have a better chance in talking dirty because they hope that since you are so close to them that you could meet her.
Here are my favorite options for finding ladyboys to chat with:
1. Thai Friendly – This is a dating site for meeting girls, ladyboys and even guys if that is your thing. Membership is completely free and you can send a message to the members every 10 minutes. If you upgrade to a premium account you can chat to them live and send messages more frequently along with other benefits.
Many of the ladyboys you see online on adult sites are on Thai Friendly and also many new fresh faces that will get you very excited. Many of the ladyboys will have their contact information in their profile, while some you will have to ask. It is not only Thai Ladyboys as there are Filipino, Japan, Korea and so forth that also visit the site but the majority is Thai.
2. Ladyboy Gold – Yes this is an adult site but they have quite a lot of contact information for most of their models.  Many of the girls have both email and phone numbers and as for Adult Sites go it is probably the best updated, sometimes the girls change their numbers so you can't expect every number to work but Gold has been quite impressive with correct info.
3. Ladyboy Inc – Adult site again but they too do a pretty good job of trying to get the correct model information, though a newer site they might not have as many ladyboys to choose from, but they are growing.  Update 2021 – I would take this one off the list, the site has not updated videos for a long time, contact information will be quite old.
4. Frank's Tgirls – Another Adult Site also do a pretty good job of updating their model information.  I wouldn't say it is as good as Gold or as accurate but you will have some luck there as well.
5. Ladyboy XXX – Pretty good selection on this adult site as well, kind of a hit or miss for contact information but I have noticed if you ask for the information and the owner of the site has it sometimes he will post it in the comments for you.
6. Facebook, Line and other social media programs – Searching Facebook you are going to find some ladyboys and many of the ladyboys in Asia use a program called LINE to chat, in fact there are a few programs they use, many of them will post it on their profiles in dating sites and the like.
7. Visiting Ladyboy Forum Websites – Another area to get contact information is to talk to other ladyboy fans on web boards.  Many of the guys will share out information on the girls they knew.  Of course if one of the members has one as a girlfriend he might not be willing to share it out, but a couple of the sites many board members will help you out.  It is kind of hit or miss as you might get angry members that do not want you to exploit the ladyboys or want them for themselves, so expect a little resistance on some boards.
So there you have it, my little blurb on Ladyboy Contact information, if you have any questions hit me up on my contact link and don't forget to follow me on Twitter.