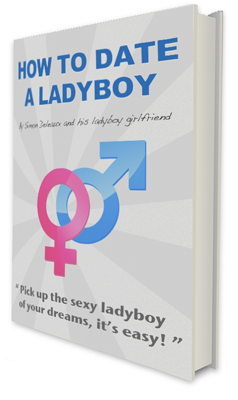 If you are really looking for a Ladyboy Girlfriend relationship and not interested in just one night stands then I might suggest you check out a cool online book I found called How To Date A Ladyboy. The main purpose of this book is to educate you on how to get a real Ladyboy girlfriend and not just an escort in a hotel. It is a great learning tool to help you understand the Ladyboy world and how to approach these girls. It is a great tool for those that are new to the world of ladyboys and even those that quite familiar with them you are sure to learn a thing or two as well. It is not a book for those looking to just have sex with ladyboys but a guide for helping you land that future Ladyboy girlfriend or even wife.
The book is written by a fellow named Simon a foreigner from France that has experienced the Ladyboy world in many aspects but finally found a long time Filipino Ladyboy girlfriend named Anne. He shares his knowledge and experiences before he met his girlfriend and of course his experiences with his girlfriend presently. Anne also helped contribute to the book giving the Ladyboy perspective to the guide is a very valuable addition. Simon breaks down the book into many areas from starting off with the basics such as What Is A Ladyboy? How Do I Meet A Ladyboy? and so forth. It is a very useful guide and is well laid out inside into different chapters.
Below are some but not all the sections of is book:

Transsexual Lingo

What Is A Transsexual?

How To Speak To A Transsexual

Why Are You Attracted To Transsexuals?

Finding A Transsexual

Best Dating Sites

First Date

Intimacy

Serious Relationships

Long Distance Relationship

Online Internet Chatting

Much More

These are only a few of the sections of his book and many of the sections are broken down into even more sub sections to really give you a strong education of the world of ladyboys and help you find that Ladyboy girlfriend of your dreams. The book is not long, just about 80 pages and is very easy to read and understand.  Simon just gets down to the questions and answers we are all wondering about. Though I can't agree with every single point he made as a Ladyboy admirer as well who has his own life experience in dealing with Asian Transsexuals.  I can say that I agree with most of his points and can tell that he is well versed in the Ladyboy world and his book is worth reading.
It might be difficult for some of us to openly talk about ladyboys online or offline and Simon provides a great guide for many of the questions you surely have.  He is also available for questions by email and has regular update links for his book when new information is available.  I wish I could have read a book like this when I first started enjoying ladyboys, it would have saved me a lot of headaches and questions. Check it out and it is available with an online download so you can start reading right on your computer today. It is also a discreet purchase and only ClickBank will appear on your credit card statements to protect your privacy.