Temptations Ladyboy Bar Bangkok
Temptations Ladyboy Bar is located in Nana Plaza on the second floor of Nana Plaza one of the sex districts located on Sukhumvit Soi 4 in Bangkok. Temptations is well known to the seasoned Ladyboy fan and like the name it can be very tempting to check out this Go-Go Bar. There are a few Ladyboy bars in Nana Plaza so no trip would be complete without visiting Nana Plaza if you are on the hunt for sexy ladyboys.
When you first walk into the Nana Plaza complex go to the right and take the escalator up to the 2nd floor and then walk to your left and Temptations Ladyboy Bar will be on your right hand side, about in the middle of the walkway. It will be hard to miss with a big Neon sign and probably a few ladyboys out front trying to get you in. It can also be reached by going up the stairs on the left of Nana Complex but just a bit more of a walk around. The whole area is bars so you can spend hours in one bar or many bars.
Photos from Temptations Website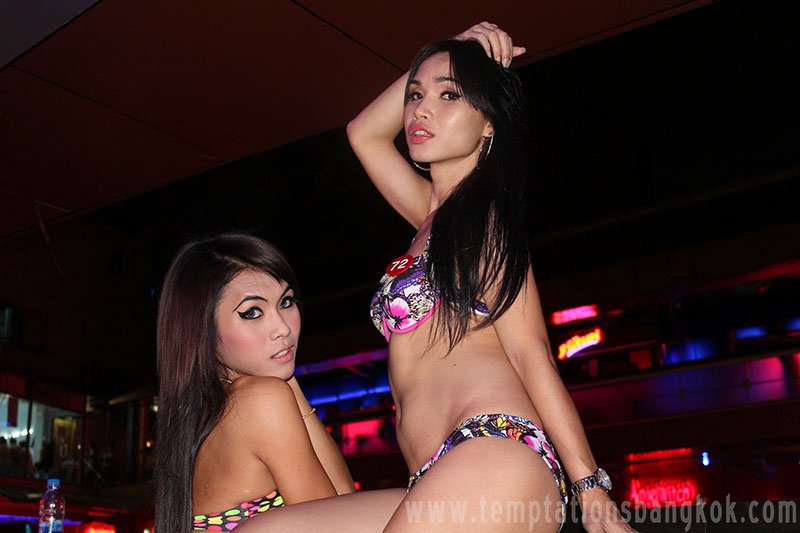 Temptations does not have a huge selection of ladyboys like Cascades does but they do have a nice handful or horny ladyboys for you to choose from. When you first enter the establishment you will see seats along the walls with small tables and in the middle is a dance area with stripper poles as well that is on a raised platform where the ladyboys dance and get your attention. The actual bar is towards the back on the right hand side but do not worry someone will come and get your order if you sit down. The bathroom is also just to the left back area of the Go-Go. The bar has many huge mirrors all over the walls so you can see all the ladyboys at pretty much any angle and the same would go for them to see you.
I like Temptations, though a little smaller than some of the other Ladyboy bars in Nana Plaza I find it a little less aggressive and a dig the retro atmosphere the owner has created. The drinks and bar fines are standard and the ladyboys are very sexy. You will find a range of ladyboys from natural young ones to the more seasoned big breasts professionals. Though the last couple of times I would have to say there were more pro like ladyboys then novice. Each Ladyboy has dance shifts on the stage where she shakes her butt in small bikinis and if you do not have a Ladyboy sitting with you then no doubt a lot of them will be giving you the I want you to buy me a drink stare.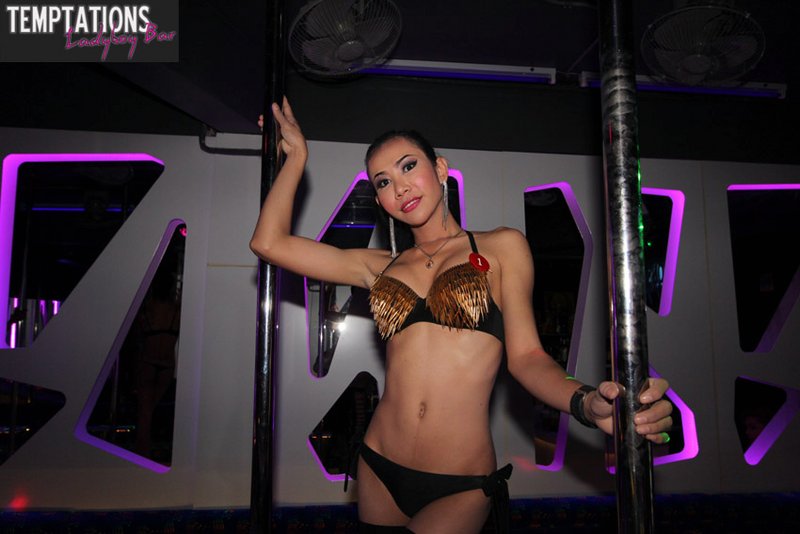 The bar has a nice selection of spirits and the staff is always quite friendly when I have visited. The bar closes officially at 2am in the morning as does all of Nana Plaza. Often the ladyboys that do not have customers at that time will be seen standing outside or heading off to other locations in the hunt for a foreign guy to have a night of fun with. As I stated the Bar fines are standard for Nana Plaza and there are short time rooms in the Nana Complex or you can take the Ladyboy to a hotel or condo of your choice. Most hotels in the area are Ladyboy friendly and are quite used to seeing guys come in with a sexy Ladyboy on their arm so don't be shy.
The bar has also taken part in some community events such as the Ladyboy Water Volleyball Tournament in 2013 which is a charity event to help those in needs. A team was created filled with Temptations Ladyboys to help raise money and have a day of fun for many Ladyboy fans. I am sure you would donate a little cash to watch beautiful ladyboys play in the water in bikinis, sounds like a no brainer to me.
Temptations usually has about 10 to 15 ladyboys working in the bar at one time but if customers have taken some of them you might find just about half a dozen dancing, really depends on the night and how busy it is. The privacy level is pretty good especially when you are inside. You will have to walk by some girl bars and a few people might see you slip into the bar as it is right in the open but this is Nana Plaza and everyone expects you to be a naughty boy and have some fun. Temptations is a fun night out, the ladyboys are hot, the bar is pretty cool and it should defiantly be on your to do list if you are in the area.