Miran is a very popular shemale in Japan and is fast gaining a huge following of fans from all over this world. My first time seeing her earlier this year I was totally blown away by her beauty, her firm body and her big surprise. I have seen a lot of tgirls in my day and it takes a special girl to make me almost fall out of my chair and Miran did just that.
Throughout the year Miran has made several movies both for the DVD Japan Porn Industry and also a popular website called Shemale Japan. I got to know her thanks to the social media and it turns out that she is just as sweet as a person as she is beautiful. I have never done an interview before and she was a girl that came to mind right away.
Please enjoy the interview below and if you have more questions you like to ask Miran then please leave in the comment section. I am sure she would love to follow up with another interview in the future. As I have stated before Ladyboy Portal is not a nude site but there will be links at the end of the interview that will show off some of her hot nude sets of work.
MIRAN INTERVIEW
Portal: Thank you for being with us Miran.  First off where were your born?  Where have you lived? Is your heritage 100% Japanese?
Miran: I was born in beautiful city Hiroshima In Japan, have lived in Tokyo, Nagoya and Vancouver, Canada before and now I'm back in Tokyo. Many people ask me this but I'm 100% pure Japanese!!!!
Portal: Your fame really took off in the Western part of the world when you started to shoot content for the Site Shemale Japan, how did you get involved with this site and can you tell us about your experiences?
Miran: Since I was working as an escort, 2 years ago, I suddenly was curious about working in porn industry. My very first shoot was November 2013 and appeared on Shemale Japan the following month  I believe.I asked photographer Hiro personally for the photo shoot and this is how I got involved this site.Working with Shemale Japan  was quite tough in the beginning, I didn't  even know how to express myself in front of camera. The more photo shoots I did the more confident I became and even enjoyed them.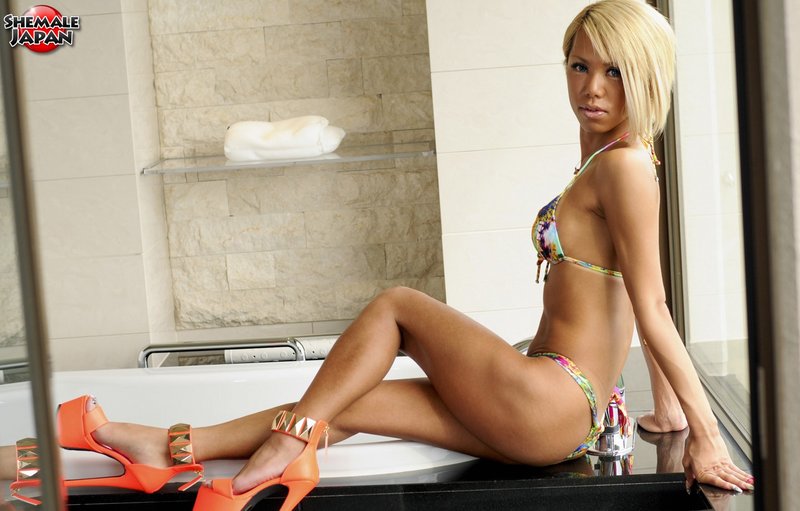 Portal: Many people are fascinated at your incredible looks and amazing body.  How do you stay so fit?
Miran: This is also frequently asked question. I don't go to gym but because I don't eat much so I'm fit! Missionary position makes my abdominal muscles fit, too 🙂
Portal: Was being a Pornstar something you always imagined, how did you get your start and how far do you plan to go?
Miran: I mentioned little bit in the second answer, I don't imagine myself as a porn star before I work as an escort. Can't decide at this point how far I will go.
Portal: What is your sexual preference? Guys, Girls or even one day with another Tgirl, your fans are curious on what you like to do and what you like the best.
Miran:  My sexual preference is definitely guys! If it's related to porn, I can have sex with both girls and tgirls but if not sorry… What I like to do is deep throat and tickle you guys with my nails 🙂
That's one reason I do long nails. The best is to be fucked for sure!!! Big, long, thick, thin sizes doesn't matter to me 😉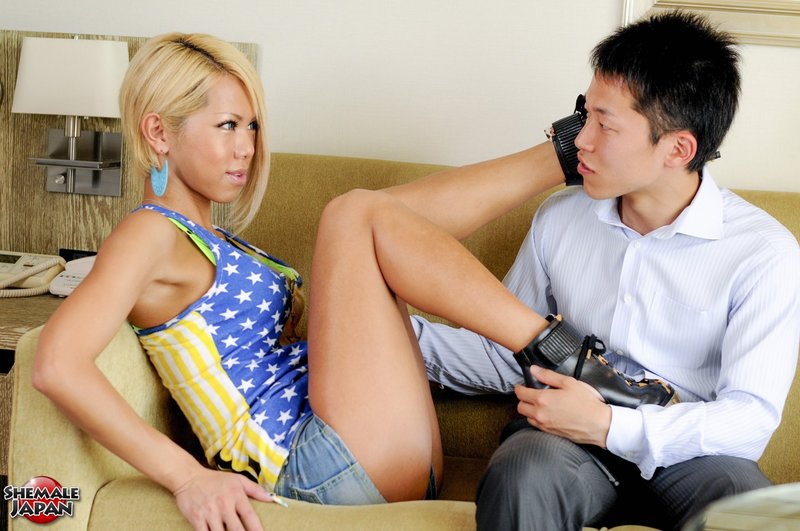 Portal: I have often heard that Western Men trying to meet Japan Tgirls is quite difficult in Japan.  Is this true and how difficult would it be for a Western Tourist to meet you if he visited your country?
Miran: I heard about it too and it's sad. For me any kind of nationality is fine, but for the others it may not. It's maybe because some of them can't speak English or other languages.For the SHEMALE who work as an escort, they are mostly working with the company and a manager that takes an appointment for them. So you need to speak Japanese to meet them.Otherwise you won't book your favorite. If they work individually it's easier I think if the speak English.
Portal: Tgirls in many countries are treated differently.  Places like Thailand are more open to the Asian Tgirl yet the Western world for instance is still quite closed minded.  How open is Japan to special beautiful girls like yourself?
Miran: It's still closed here in Japan too but getting better I think.Lots of Shemales and gay people are appearing on TV nowadays and they are making effort to get to know more about our industry.
Porn industry is more closed.
Portal: What do you like to do in your free time?
Miran: Definitely shopping!! Love high heels especially Christian Louboutin's. Also i love collecting Barbie dolls! Maybe some of you can buy for me 🙂
Portal: Are there some places in this world you would love to visit?
Miran: Maldives would be great!!! Love to see beautiful ocean.
Portal: If you could only wear one outfit for the rest of your life what would it be?
Miran: Fishnet dress, they can show my body beautifully.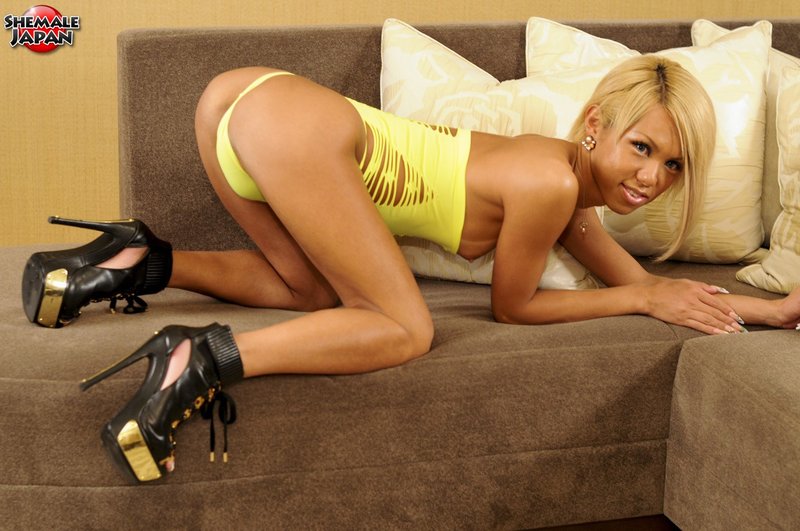 Portal: I heard you might be coming to the United States soon, is this true and what can you tell us about that?
Miran:Yes, I'm going to US to attend the Transgender Erotica Awards.
http://www.theteashow.com   I was nominated for the Best New Face and the Best Non-US Performer. So make sure vote for me!
Portal: Do you have a favorite food and favorite drink?
Miran: Favorite food would be fresh salad and favorite drink is caramel macchiato from Starbucks.
Portal: Who is your favorite actor or actress in Japan and America? Do you have a favorite movie as well?
Miran: My favorite actress would be Angelina Jolie. But I also like Victoria Beckham, Kim Kardashian and Tyra Banks.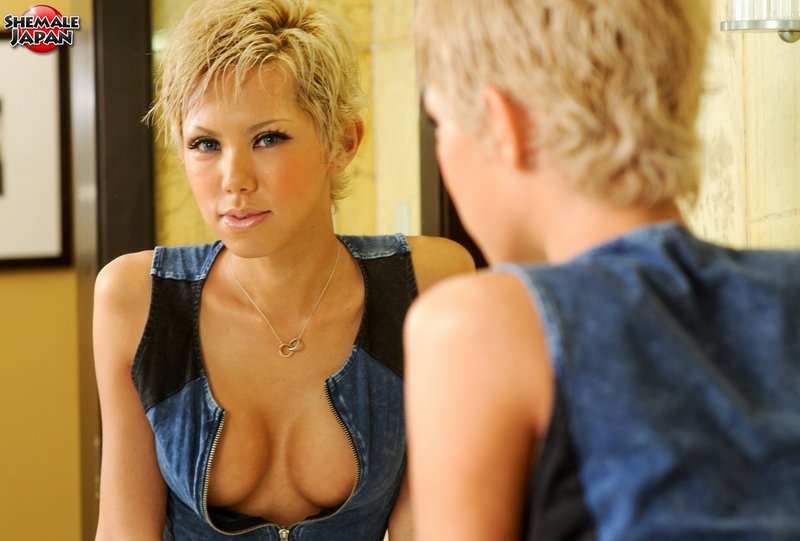 Portal:In America there is often adult industry conferences where fans and models often meet that are staged in many cities throughout the country.  Does Japan have similar conferences or award ceremonies for the Japan Adult Industry or is it more low key?
Miran: Yes they have it for girls. Rare for shemale adult industry.
Portal: I am sure many guy fans are dying to know if you are single and if you have thought about having a full time boyfriend now or in the future.  What would be your ideal type of guy?
Miran: I don't have boyfriend at this moment but yes I want to have boy friend in the future. I'm really concentrate working in this industry so I don't need one right now. Ideal type of guys would be masculine! But treat me as a girl not shemale 🙂
Portal: You fan base increases every month and sites like Shemale Japan you hold the top model spot.  Do you have any messages you like to share with all your fans out there.
Miran: Thank you very much for your support and love! You guys always give me joy and happiness. Love to see you each and everyone of you but it's difficult.However, I'm going to attend Transgender Erotica Awards held in February 2015. So check your schedule and come to see me.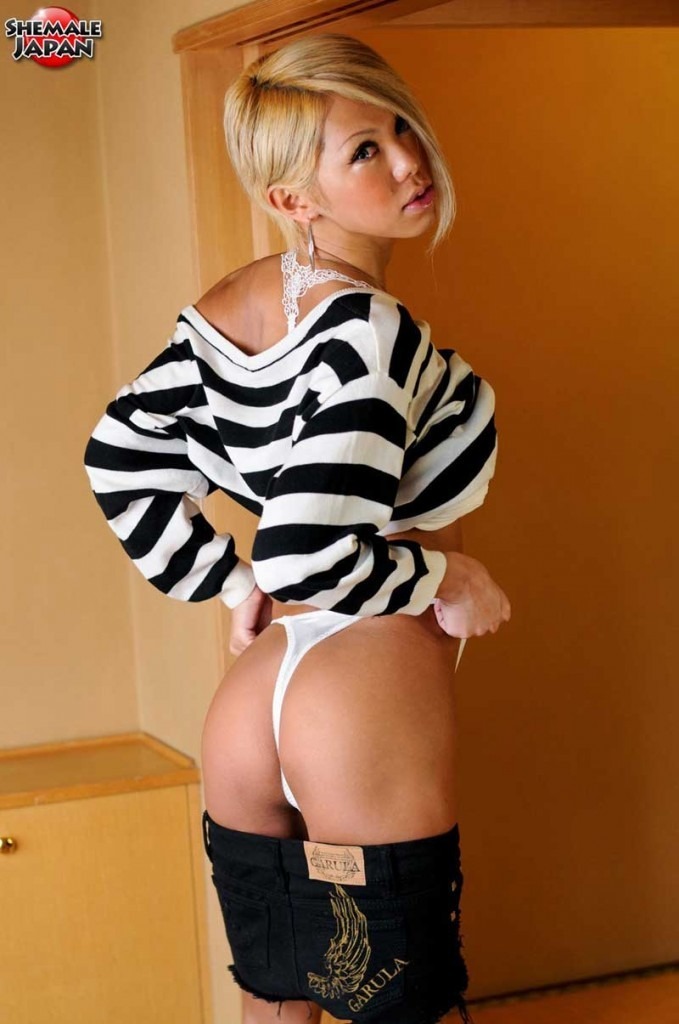 Thank you so much for talking to us at Ladyboy Portal.  We are very excited to have you as our first girl for our new Interview section.  I have talked to you several times and besides your obvious beauty you seem very sweet as well.  A girl that seems to be not only beautiful on the outside but the inside as well.
Fans please feel free to comment and leave questions. Hopefully, we can have her back again to answer some fan questions!
SOME POPULAR LINKS OF LOVELY MIRAN: