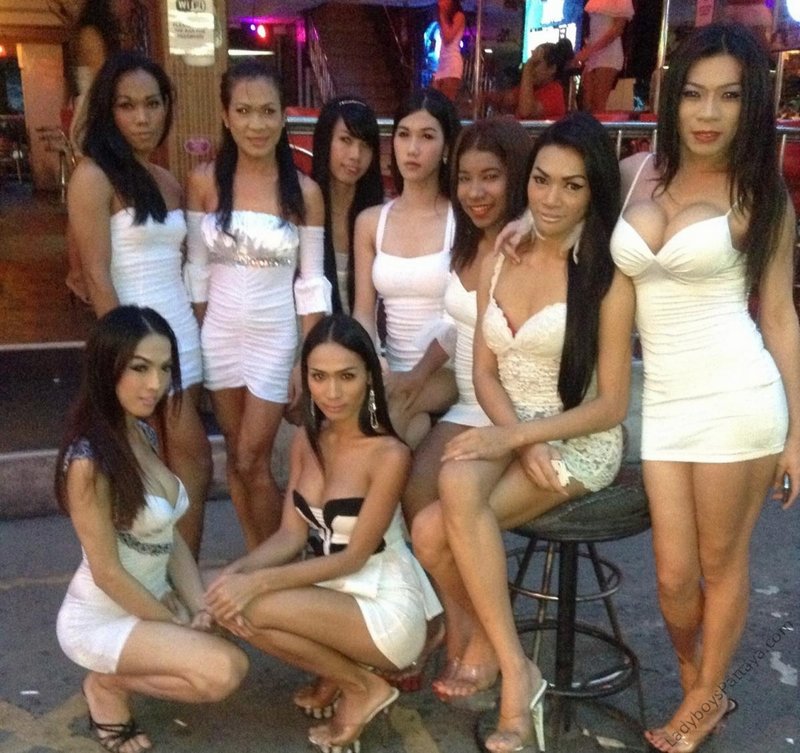 Pook Swan Ladyboy Bar Soi 6 Pattaya, Thailand
There is actually two Ladyboy bars in Pattaya with the Pook name but will be focusing on the Pook Bar on Soi 6 for this particular portal post. Soi 6 is one of the more famous sex streets in Thailand. It is open early, usually bars start to let people drink around lunch time and it goes all day until about 2 or 3 in the morning when things start to slow down. Soi 6 has a number of Ladyboy Bars on the street but Pook Bar is probably the biggest and most well-known. From the beach it is just about half way up the street on your right hand side. It is hard to miss with usually a few ladyboys sitting out front and some dancing inside on stripper poles behind.
All photos from Ladyboys Pattaya
The bar is wide open and can be seen from the street, there is no door or walls blocking the entrance. You can see exactly what is inside by just walking by. Usually the bar is the most busy around 7 or 8 at night and at any given time you will see about 10 to 25 ladyboys working the stripper poles, sitting out front, playing at the pool table and talking and drinking with customers. There also might be a few hanging out back on another Soi behind the bar. That street is known for guys cruising for ladyboys that are either too shy to enter the bar or just want to bypass the whole bar scene and get his Ladyboy to have some fun with right away.
The establishment itself has a large bar area and stools on the left when you enter, some tables around the stripper poles and some seats towards the front where you can watch the action on the street itself. They also have an upstairs area with more seats, another bar area and seats out front as well. However, that area is usually not busy if anyone is up there at all. The prices are reasonable and the drinks are typical of most bars in Thailand. There is one pool table that you can use and if it is busy you just put your name in and wait until the queue gets to you.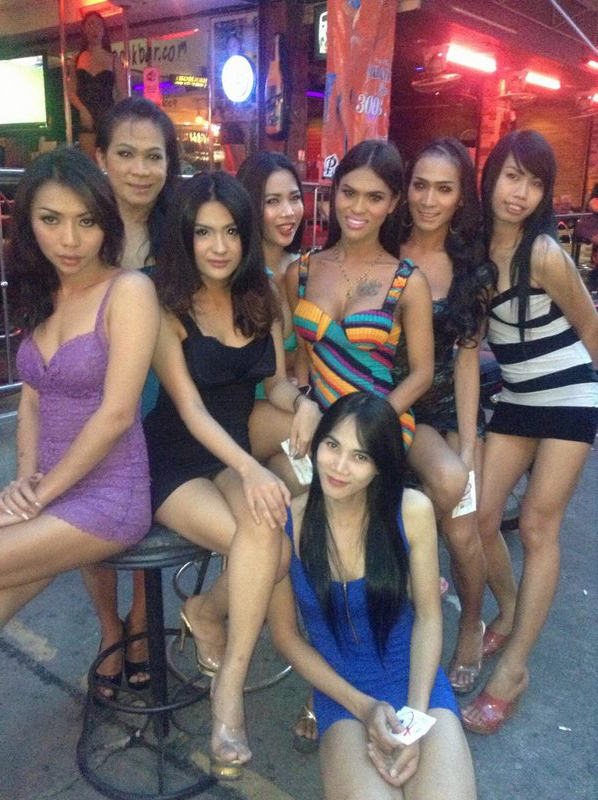 The ladyboys themselves are pretty much the Pro ladyboys, meaning they have been around the block and know the score. You usually do not find a lot of newbie ladyboys here, these girls are seasoned. Most have operations for bigger breasts, asses, hips and some facial work as well. However, if you are looking for the more natural Ladyboy it is possible to find them there as well, just a little harder as the typical Ladyboy there is more of a professional. The ladyboys themselves are quite nice for the most part, a little aggressive to get a drink from you or have some sexual fun but all and all not to bad considering that is their job.
Every Ladyboy has to take a dance shift so she might have to leave your table to do a few dance routines. I have noticed sometimes the ladyboys will switch dance shifts with another, probably thinking she has got a good customer and wants to hold on to him and not have another Ladyboy swoop in. The bar does have short time rooms upstairs for those that want to have some sexual entertainment. You can also take them somewhere else such as your condo, hotel or perhaps another cheap room in the area to get down and dirty with her.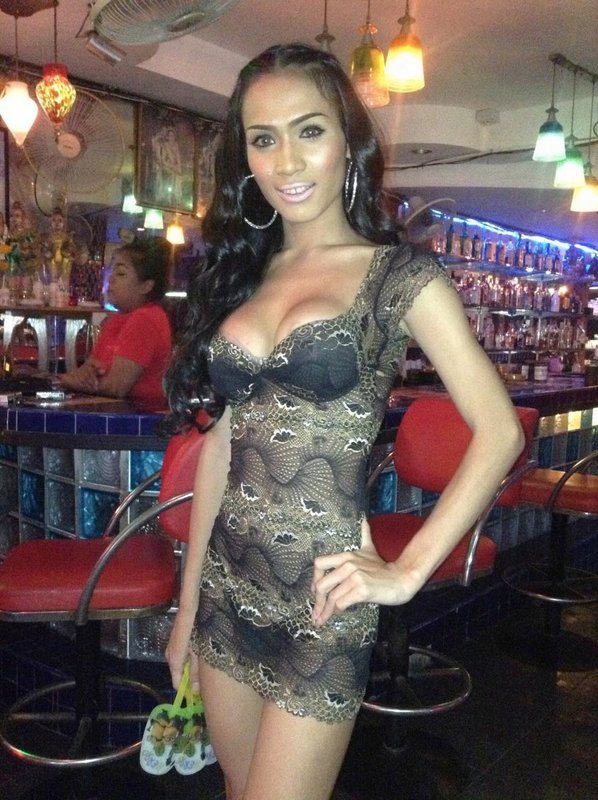 There is a bathroom in the bar just to the left of the pool table towards the back. Not the cleanest bathroom I have ever seen as everyone uses it including a lot of the ladyboys but it will do in the pinch. Also got to watch your head for the tall guys, it is an interesting shaped room so you might get a bump to the old head if you are not careful. The bar officially closes at about 2 in the morning but usually after midnight it really starts to slow down as the ladyboys go to other locations seeking customers. Some of the ladyboys actually go to the other Pook Bar as that one stays open a little later. From time to time even when the bar is closed you can still find some ladyboys waiting outside the bar both front and back hoping to get a foreign guy that is still looking for some sexy fun.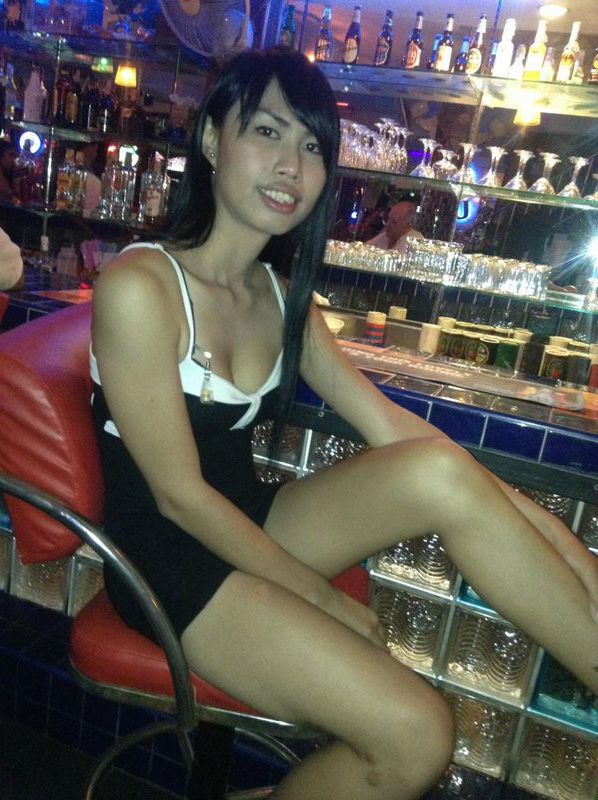 The bar itself privacy level is really on how you approach it. IF you come in from the front of the bar and sit near the front then anyone on the street can see you. IF you want to be more secretive then you can slip in from the back and hang out at the end of the bar, not as easily noticed that way, but you might miss some cute ladyboys that are in the front. The Soi is meant to be a street of drinking and whoring so no one really cares what you do, try not to feel intimated and just have fun. I will admit some of the ladyboys here have a bit of a Diva attitude that you have to watch for. If you turn them down they might flip their hair and walk off in a huff but stay cool and continue to be nice, she will get over it quickly and move on. That way you can find your perfect match for the night or many nights if you so desire!